Mumbai to Lonavala Car Rental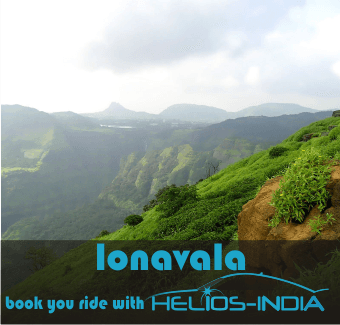 About Lonavala & Khandala
The most convenient weekend gateway near to Mumbai, where you don't have to make any stringent plan to travel.  It's Lonavala and Khandala, twin hill station near by Mumbai and major attraction for Mumbai people seeking a holidays over weekend.
Roughly about 3 hours of drive from Mumbai you can explore this beautiful hill station. Apart from beautiful landscaping this spot is also well known for it huge varieties of chikki and chocolate fudge. And if you are naturist then this site has many beautiful spot that will take your heart away. To name a few the visiting spots are Bhishi Dam, Valvan Dam, Kaivalyadhama Yoga Hospital, Duke's Nose, Ryewood Park, Tigers Point etc

Spots Description and must see places in Lonavala & Khandala
Dukes Nose: Close resemblance to the nose of the Duke of wellington and that's how the name has been acquired. The various view spots always offer breath-taking sight of lush green mountains, forest and valleys. Dukes Resort is amongst the famous resorts and highly rated ones if you planning and excursion and comfortable trip.
Korigad Fort: It is little secluded and perspiring to reach at this sport. But making a successful attempt to reach here is worth . This hill fort of Korigad falls right in the heart of Amby Valley and is situated around 3050 feet above the sea level. Reaching here is little tricky. Travellers need to travel by road using available options of transport of hired car and then you need to go walking through forest and hills. Surely and adventure worth trying!
Tiger's Leap: This spot is worth visting and it is right on top also well known as Tiger's Point. The name is derived because of the illusion of tiger leaping caused by this spot . You would find various shacks on the spot who serve the patrons planning to stay overnight at the spot to get the real view in the early morning. Though there are no hotels at this spot but travellers wish to sleep in vehicle and enjoy whole night. Local people would serve you corn pakodas, Maggi, Starters and other stuff which will keep you hooked at this spot. Don't expect classy standard out of theses local people but the definitely it is again an experience you would enjoy.
Lohagad: Beautiful waterfalls, historical forts and well known humongous steps leading to caves is what all you get to see at Lohagad Caves.


Karla & Bhaja Caves
if you wish to visit the oldest and temple made with perfection by cutting out rocks then , in the lap of Lonavala Early Budha temple would surely catch your eyes. This Karla caves are made to imitate wooden architecture is one of the oldest Buddhist memorial in India. All the structures are conspicuous enough to remind you of Buddha. And a gateway made up of 37 Huge pillars carved with elephant head design is a delight to watch. The Bhaja Cave only comprises of 18 cave sand 14 stupas. Adjacent to Karla Caves, Ekvira Temple is a destination for thousands of devotees.