Mumbai to Malshej Ghat Car Rental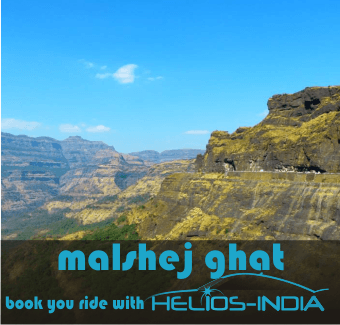 About Malshej Ghat
Malshej Ghat, a perfect gateway for people residing near Mumbai or Pune. It is positioned at the western Ghats of Pune district. This location has a perfect beauty of Mountains, Flora and Fauna. Breathtaking views from many known spot are something which we call as specialities of this location. You would find hundreds and thousands of categories under Flora and Fauna and top the some avian populations are, flamingo, rails, quails, crakes, cuckoos etc. Adjacent to the border of Thane –Ahmednagar Malshej Ghat is situated in Pune District. Arroud a drive for 125-130 kms from Mumbai or 150-155 kms from Pune and has near railwaystation named as Kalyan. From Mumbai travellers find it convenient to hire a Car/ Vehicle to reach to this beautiful spot. Reaching to this location you would get access to awesome views of valleys and which are again part of major attraction at this spot. And not give a miss is the beautiful view from the MTDC resort's back area. Malshej Ghat houses and is equally famous for its Dark Woods and Animals/Birds. So whether it is Tigers, Leopards, Rabbits, Peacock, Flamingo etc. Nevertheless if you are found of waterfalls , then Harishchandragadh  is a famous spot to have a deco to nature's beauty. All sizes of waterfall you can explore majority you would get to see from highway itself. Driving to this location is preferred and advisable so that customers travelling from Mumbai can enjoy each and every bit of the beauty and truly make their trip as memorable.

This Ghat is also known as graveyard of small birds and majorly these incident takes place in the season of monsoon. The major reason for this is the Strong Wind, Heavy Rainfall, Fog and Blinding Lights of Moving vehicle leading to the birds disorientation and ending up hitting cliff faces, resulting in immediate death. Though these incidents are well noticed and are taken care by the local naturist and currently the death rate has gone down but possibilities always remain and cannot be circumvented. The Major significance of Malshej Ghat are the migratory birds flock coming to this spot in the month of July and September. If you are lucky then you might end up seeing the mating dance pink legged flamingo. Travellers shall remain informed that this place is little secluded form the small or big village and there no much of options for the travellers to stay and there is a dearth of malls and high street or market. One advisable place to stay would be Flamingo Resort run by MTDC. Otherwise there are few more resorts offering a stay at Malshej Ghat. People travelling from Mumbai to Malshej Ghat shall keep an account of staying options if planning to travel for more than a day. Travelling part can be well taken care by Helioscabs and we would deploy knowledgeable, courteous drivers to make your trip from Mumbai to Malshej Ghat memorable. Travelling to Malshej Ghat from Mumbai could be a lot of fun if you book a ride from helioscabs.